getting to the top.
---
Podium Fitness
We'd already worked with the new owner of Podium Fitness before with one of his other businesses and we were delighted that he came back to us for his latest venture. Podium is about individual and group fitness, for people wanting to hit their own personal targets no matter what they are. The challenge presented to us was a rebranding exercise as this business had been sold on and was already established in the outskirts of London. The client wanted to create an all-new identity but still keep certain elements of the original, so the transition was seamless as far as existing clients were concerned.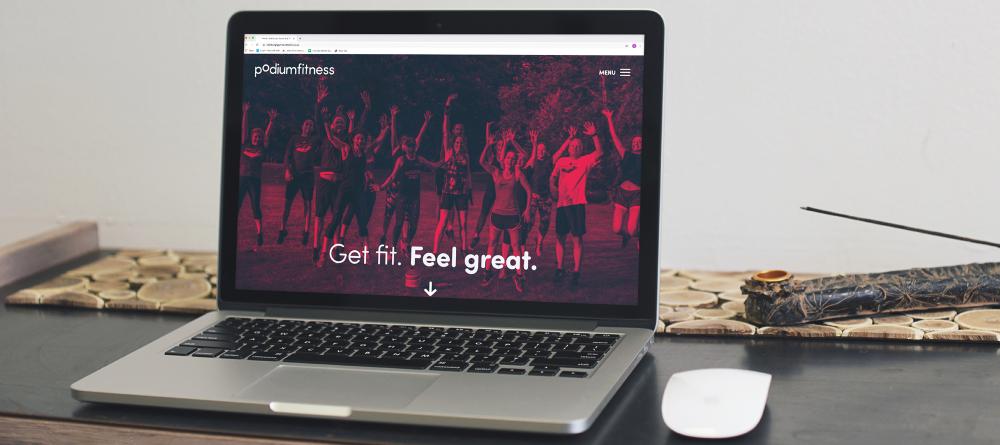 Having tested various designs and slogans we agreed to keep the existing slogan. The identity was developed with a series of fitness related icons that pulled the branding together, all demonstrated in the brand guidelines we prepared ensuring the client knew how all the elements should work together across online and offline advertising.
Once the branding process was complete we moved on to developing their website. The client absolutely loved the structure and movement of our own site and wanted something similar. Not ones for repetition, we UX tested a few different approaches to enhance what we had developed before. This site has our custom CMS (content management system) built-in, which gives our clients the option to easily edit content to a level they are comfortable with. From launch, this site had the capability for online bookings. However we've continued to upgrade and modify the site to enhance the user experience further, which along with online advertising we managed via Google Adwords and Facebook, has vastly increased their customer base.
---
COVID-19
Following the UK Government Lockdown we worked with the client in setting up a new 'fitness at home' free plan with different workouts and home challenges to keep users active whilst one-on-one or group activities were impossible.
Visit the site for yourself podiumfitness.co.uk