SOWING THE SEEDS FOR SALES
---
JOHN CLARK MOTOR GROUP
Making the sale is often the easy part. Retaining that customer over a period of years can be more challenging. Providing them with aspirational and informative content without the 'hard sell' to keep them enthused about your brand is one way to maintain their interest. This was the approach we adopted recently for the John Clark Motor Group, with the launch of e-magazines which blended news and feature pieces with subtle advertising and competitions to establish a deeper connection with the customer.
Our in-house copywriting service meticulously researched the articles, taking on the role of editor and writer to give each issue the desired balance and polish to justify the 'magazine' status; while we made sure the designs were full of the highest quality imagery with a variety of eye-catching layouts. This had to be more than just your standard newsletter – it had to exceed expectation and really hold the attention of everyone who took the time to open it. Packaging it up in a flipbook style – to give the look and feel of thumbing your way through a magazine – was an essential component of the project. As was the need to embed video content, interactive links and downloads to accelerate the engagement.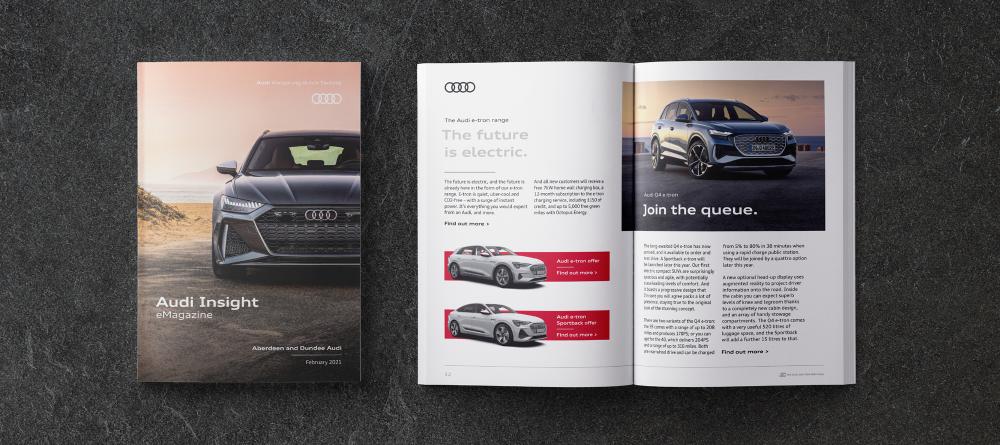 It also gave us a great opportunity to develop our own bespoke email marketing platform further, so we now have the capability to record interactions with the e-magazine. Not only does this provide valuable data with regard to Return On Investment [ROI] monitoring, but it can also enable you to make stronger judgements when it comes to re-targeting key customers who have shown particular interest. It can give you the edge over the competition by giving you a sense of what the customer is thinking, thanks to a granular level of analysis.
Email open rates and click-throughs across all of our campaigns have been above average, confirming what our research had indicated: that there's a real hunger right now for customer-centric content. A longer-term soft-sell tactic can be more effective than the hackneyed 'buy it now' method. A blunt instrument just won't do – this had to be precision-engineered. These e-magazines will help to build a relationship with the customer, creating the right conditions for a fruitful sales interaction further down the road.